BBQ Grills
Shop BBQ Grills and Outdoor Cooking Appliances
Outdoor Lighting
Shop Outdoor Lighting and Landscape Lighting
Patio Furniture
Shop Outdoor Patio Furniture and Outdoor Decor
The Outdoor Store
The Outdoor Store is an online retailer of outdoor products for outdoor kitchens, cooking, grilling, lounging and leisure. The Outdoor Store, LLC was formed to provide and inspire customers to premium outdoor kitchen and grilling products that will enhance their lifestyle. With quality in mind, The Outdoor Store has hand selected world-wide manufacturers of premium products to create the perfect outdoor backyard oasis. Our goal is to provide great products backed by world-class customer service from real people. We're excited to share our expertise with you!
Looking for a little inspiration? We've compiled our top selling outdoor kitchen packages from some of the most popular brands to fit your style and budget.
We've reviewed our BBQ smokers based on performance, durability, and overall cooking versatility.
Our panel of experts have agreed that these Bull gas grills give you the biggest bang for your buck and must haves for your backyard!  We carry the most popular Bull Grill Models.
We have everything you need to find the perfect pellet grill and accessories to get you cooking!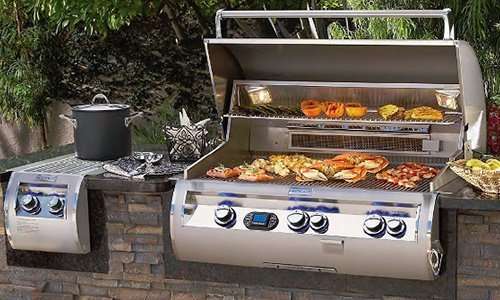 BBQ experts have tested and reviewed our most popular gas grills and rated each grill so that you can see what we love about each one.
Check out some of our favorite BBQ tools and accessories you need to become a BBQ Master!
"We purchased our Fire Magic Aurora Gas Grill and Outdoor Kitchen Storage for our backyard built in kitchen from The Outdoor Store and praise their level of customer service. Everything screams excellence from these guys!"
 Edward P., Homeowner