All your outdoor living needs in one place
The Outdoor Store provides you with the latest in outdoor cooking gear: from wood-fired pizza ovens, to high quality gas grills, smokers, pizza ovens & more. The Outdoor Store has everything you need for outdoor living, entertaining and cooking.
Leading Grills on the Market
Our selection of cookers creates the finest experience that grilling has to offer, no matter your experience level. Between affordable designs made simple and complex smoker kits for the well-travelled grill master, your craving for great smoked food is sure to be satisfied at The Outdoor Store.
Make Your Backyard the Ultimate Destination!
Create a world of comfort and luxury in your own backyard! Start with patio furniture and fire pits for the ultimate entertainment experience, then check out our bar centers and refrigeration units, finish your search with a grill or pizza oven that meets all your dining needs. In a bind? Not to worry! Financing is available for all customers making it easier to turn your dream backyard into a reality. Shop all your outdoor accessories needs online and have your outdoor kitchen delivered right to your door!
Looking for a little inspiration? We've compiled our top selling outdoor Patio sets from some of the most popular brands to fit your style and budget
We've reviewed our BBQ smokers based on performance, durability, and overall cooking versatility.
Our panel of experts have agreed that these RCS gas grills give you the biggest bang for your buck and must haves for your backyard!  We carry the most popular RCS Grill Models.
The El Charro Rodizio Grill stays true to authentic Brazilian BBQ and offers a Brazilian Style BBQ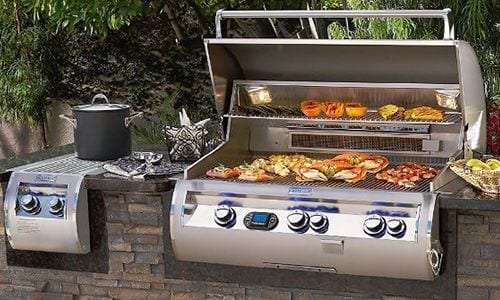 BBQ experts have tested and reviewed our most popular gas grills and rated each grill so that you can see what we love about each of our gas grills to compare the features.
Check out some of our favorite BBQ tools and accessories you need to become a BBQ Master!
Popular Videos Worth Watching
Best Sellers
Check out some of our best selling products to get your grilling or outdoor space to the next level!
Popular Categories
Thank You for Shopping The Outdoor Store. We've Got Over 1,000+ Items to Choose From.
Join Our Mailing List For Great Deals & Updates!
"We purchased a Darlee Furniture Set and Primo Gas Lantern for our backyard Patio from The Outdoor Store and praise their level of customer service. Everything screams excellence from these guys!"
Chris J., Customer